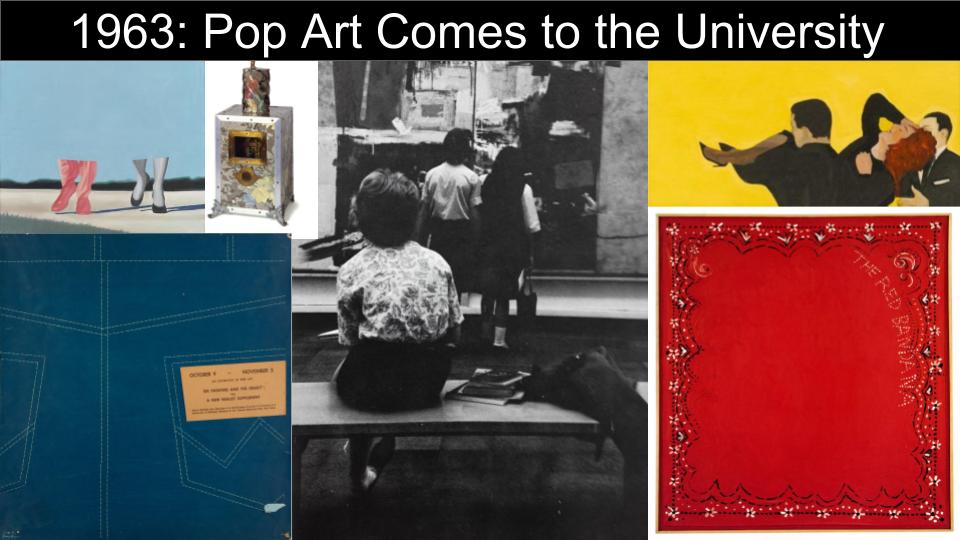 Clockwise from bottom left: Nancy House's Exhibition Poster, James Rosenquist's Untitled, H.C. Westermann's Machine for Calculating Risk, University of Michigan students examining Robert Rauschenberg's Wager, Rosalyn Drexler's This is My Wedding, and Jim Dine's The Red Bandana.

In fall 1963, the University of Michigan Museum of Art hosted two of the first exhibitions of a new phenomenon beginning to be called "Pop Art." "Six Painters and the Object," on loan from the Guggenheim Museum, presented the work of Warhol, Rauschenberg, and others already attracting attention in the New York art world, while the innovative "New Realist Supplement," curated in-house, featured a range of younger artists in a variety of media. Record numbers of people visited and a lively "what is art?" debate ensued.
These exhibitions, the first to present Pop Art on a college campus, were part of a bigger trend through which Cold War-era research universities also became the sites of artistic and social experiment. This website reconstructs the Pop exhibitions and places them within the context of life at the University in a period when student activists started questioning the myths of the good life in America. It shows how before the art historical categories hardened, the idea of "Pop Art" included a range of artists and artworks that add an edgy component to our understanding of the trend and are well worth revisiting. Some have seldom been exhibited since they were first brought together in Ann Arbor in 1963.