Let the People Decide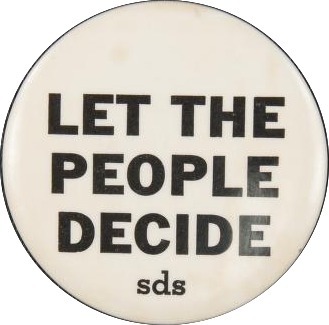 Dublin Core
Title
Let the People Decide
Description
The main goal of SDS was to give power back to the people. They wanted people to participate and make decisions in the political issues that affected their lives.
Source
"Let the People Decide" Folder Youth & Student Protest-Students for a Democratic Society, Labadie Special Collections, University of Michigan
Citation
"Let the People Decide," Resistance and Revolution: The Anti-Vietnam War Movement at the University of Michigan, 1965-1972, accessed October 26, 2021, https://michiganintheworld.history.lsa.umich.edu/antivietnamwar/items/show/298.