Students protest recruiters on campus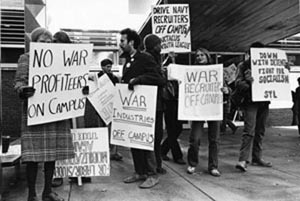 Dublin Core
Title
Students protest recruiters on campus
Description
Students protest recruiters who participate in war research.
Source
"Protestors demonstrate against corporate recruiters
with known war research affiliations", Michigan
Daily Photograph Collection, Box 12, Bentley Historical Library, University of Michigan.
Citation
"Students protest recruiters on campus," Resistance and Revolution: The Anti-Vietnam War Movement at the University of Michigan, 1965-1972, accessed September 26, 2023, https://michiganintheworld.history.lsa.umich.edu/antivietnamwar/items/show/70.