National Context: President Reagan and "Constructive Engagement"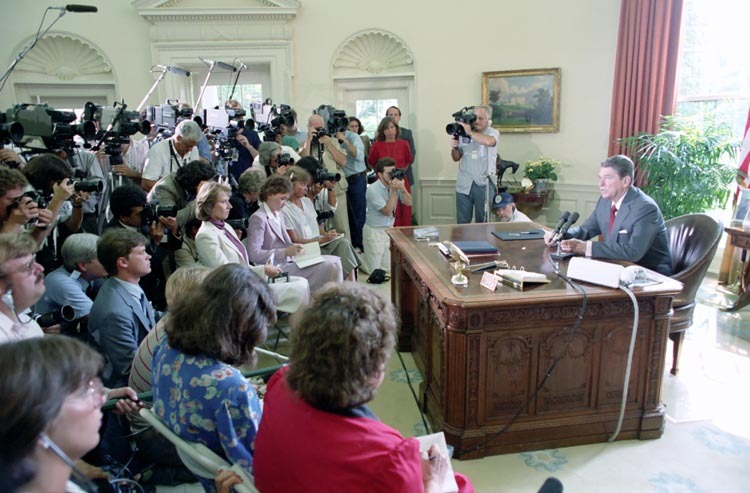 Constructive Engagement
As the 1980s began, the issue of what to do about apartheid became increasingly prominent at the highest levels of government in the U.S. For President Ronald Reagan, recently elected in 1980, the firm economic sanctions that activists, such as those at UofM, promoted was not necessarily the best course of action. In a 1981 interview with Walter Cronkite, apartheid surfaced within the context of a discussion over human rights and the spread of Communism. Reagan characterized the situation in South Africa as one of slow, but deliberate progress, reminding the public of "how many people, black and white, in South Africa are trying to remove apartheid and the steps that they've taken and the gains that they've made." Following this praise of existing efforts, he reiterated support for the South African regime, asking: "can we abandon a country that has stood beside us in every war we've ever fought, a country that strategically is essential to the free world in its production of minerals we all must have…?" In this way, the new President prioritized resistance against communist expansion over efforts to end human rights violations internationally. Though he acknowledged the importance of ending systems like apartheid, as long as governments like South Africa's were aligned against Communism, they warranted the support and friendship of the United States.
Thus, throughout the first half of the 1980s, the Reagan administration pursued a policy dubbed "constructive engagement," based on the principle that by remaining engaged politically and economically in South Africa, the U.S. could improve conditions for oppressed populations from within. Backing up his position with comments from Zulu tribal leadership, Reagan continued to oppose "hostile" policies like economic sanctions that might "hurt the people we're trying to help." In response to the increasing crackdowns perpetrated by the Botha regime in the early-mid 1980s, Reagan seemed to minimize the extent of the violence, calling it "law enforcement against riotous behavior," in the same breath de-legitimizing the South African resistors and endorsing South African state action.
Early in Reagan's presidency, national organizations such as the ACOA recognized his reluctance to pursue divestment to change the situation in South Africa. Letters such as the one pictured here set the tone for resistance to the President's continued friendship with the apartheid regime.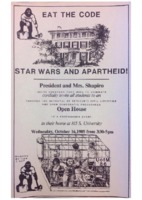 Constructive engagement quickly drew the ire of divestment supporters in Michigan. The satirical flyer to the left ridiculed two of the Reagan administration's most controversial policies, namely constructive engagement and the special military program dubbed "Star Wars." The flyer also directed blame at President Shapiro and his wife for siding with Reagan's policies. Meanwhile, State Representative from Ann Arbor, Perry Bullard, publicly criticized an administration that had "lost its commitment to press South Africa to change." Not only did constructive engagement not work, Bullard asserted, but it contributed to a more "brutal and restrictive" South African regime. Within this context of national refusal to implement economic sanctions, Bullard urged his constituents to support disinvestment as policy at the state and local level, in order to pressure the federal government into adopting similar measures.
Renewed Protest
Reagan's reelection in 1984 promised four more years of inaction from the administration. During this period, a steady stream of images and reports from South Africa brought the violence of the Botha regime to the forefront of the political landscape. The Reverend Jesse Jackson made sanctions on South Africa a key component of his unsuccessful presidential campaign, but the staunchest resistance to Reagan's policies came from a resurgence in grassroots protest tactics honed in the civil rights movement of the 1960s. Led by groups such as TransAfrica and the Congressional Black Caucus, anti-apartheid activism surged into mainstream political consciousness.
On the night of Thanksgiving, 1984, TransAfrica's executive director Randall Robinson, Congressional Black Caucus member Walter Fauntroy, and U.S. Commission on Civil Rights member Mary Frances Berry initiated a national wave of protests with an impromptu sit-in in the South African Embassy. The subsequent arrests of a number of high-profile politicians and public figures who joined the protests prompted increased pressure on the administration. In December, the administration responded by announcing that the President would meet with Bishop Desmond Tutu, a prominent black South African leader and recent recipient of the Nobel Peace Prize.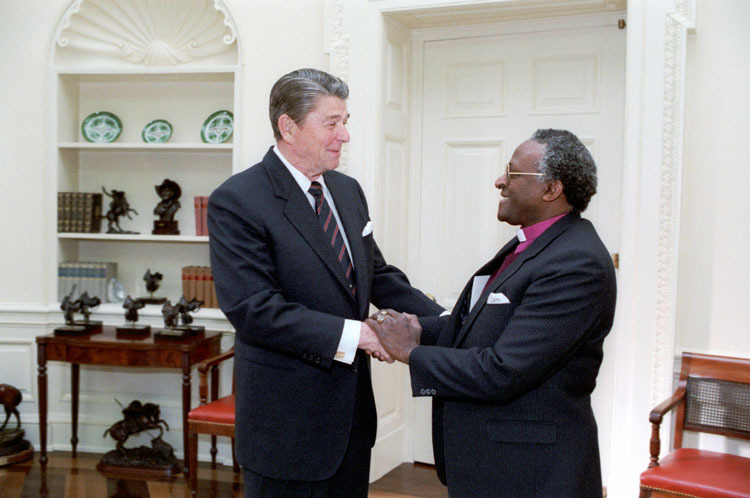 Tutu, an adamant critic of constructive engagement, called it "immoral, evil and un-Christian, claiming that it worsened apartheid rather than ameliorating it. According to the Washington Post, Tutu challenged the president to "call for an end to the current violence in South Africa, release of all detainees, a lift on bannings and forced population removal schemes, amnesty for all political prisoners and a national convention to draw up a blueprint for a new kind of society." However, after the meeting, both figures remained unconvinced by the others' arguments, as Tutu stated they were "no nearer each other than before we entered the White House."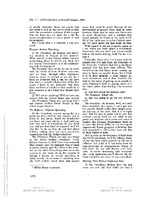 Reagan was equally unmoved. When asked about the meeting, he calmly defended his stance that "quiet diplomacy" was the correct course of action. He claimed that this approach had already achieved "sizeable progress" in influencing the South African regime, and that it was "counterproductive for one country to splash itself all over the headlines, demanding that another government do something." Furthermore, Reagan disputed Tutu's statement that conditions had worsened, though he acknowledged a recent surge in violence that "resulted in violence from the other side." Thus, despite a rising tide of international pressure, including direct discussion with black South African leaders, the Reagan administration continued to champion the benefits of discreet diplomacy, rather than openly criticize the South African regime and implement the sanctions many activists desired.
Congressional Pressure
By the summer of 1985, lawmakers in Washington responded to popular calls for sanctions by drawing up legislation to impose economic sanctions on the South African government. In August, Reagan said he would wait to see what such a bill contained before vetoing it, but he clearly still refuted the benefits of sanctions. During this period, violence in South Africa continued to escalate. Strikes proliferated, led by black unions against white businesses, and some blacks perpetrated violent and often fatal attacks by black South Africans on black officials for "collaboration" with the regime. In response, Botha's administration imposed a state of emergency, including press censorship, military occupation, and rampant arrests and detention without due process. Though the U.S. did openly call for an end to this government crackdown, Reagan was reluctant to condemn the South African government's actions, claiming, "we have to recognize sometimes when actions are taken in an effort to curb violence."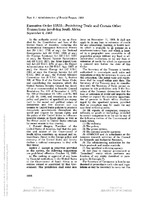 One month later, however, the Reagan administration seemed to succumb to the mounting pressure to introduce sanctions. In a move that the New York Times described as "relatively sudden" and "a significant shift in policy," Reagan signed Executive Order 12532 on September 9, 1985. Though characterized as "a set of modest punitive steps" to appease federal lawmakers whose sanctions bill promised harsher measures, Reagan's action was an unexpected about-face for an historically stalwart administration.
The order condemned the South African government's actions as "an unusual and extraordinary threat to the foreign policy and economy of the United States," and authorized a series of economic policies aimed at weakening the apartheid system. Chief among the new regulations were prohibitions on bank loans to the government of South Africa, restrictions on exports, such as computers, and equipment that might be used by the military or other agencies that perpetuated apartheid policies, such as passbooks for Africans. However, the order was careful not to implicate U.S. corporations doing business in South Africa, praising them for "voluntarily" maintaining fair labor standards for South African workers and encouraging them to continue acting as a positive force for change. Finally, the Secretary of State was directed to develop and promote such fair labor standards for companies in South Africa. Though perhaps more stringent than the original Sullivan Principles, and now backed by the authority of the U.S. chief executive, many anti-apartheid activists would equate this section as a mere affirmation of the Principles once again, showing little progress.
Unfortunately for the Reagan administration, the order did little to dissuade the growing multitudes of anti-apartheid protestors, both on college campuses and in congress. As the Michigan Daily reported, Reagan's limited measures were enough to delay a vote on a harsher sanctions bill, but left many in congress unsatisfied. House Speaker Thomas O'Neill dismissed it as "chock full of holes." Outraged by Reagan's sudden stance against his government, Botha refused to be "coerced" by U.S. power, and continued to assert that sanctions would only hurt South Africans of all races, as well as instigate even more extensive violence.
With pressure continuing to mount into the summer of 1986, Reagan released a statement on the 10th anniversary of the massacre in Soweto. He spoke in solidarity with the continuing victims of tragic violence, and said he spoke with Botha to communicate his "deep feelings" that peaceful democracy should reign in South Africa. However, these heart-felt declarations could not persuade the president of the virtues of the sweeping sanctions bill that reached his desk in September.
By vetoing the Comprehensive Anti-Apartheid Act of 1986, Reagan showed his continued opposition to sanctions as the correct course of action. This seemed to confirm that the limited sanctions in his executive order represented an effort assuage further action from congress, rather than endorse the positions of anti-apartheid activists and politicians. While the president assured his colleagues that he "vigorously support[ed] the purpose of this legislation," he condemned the bill as an act of "economic warfare against the people of South Africa," and especially those it was designed to help. Echoing the long-held beliefs of those opposed to sanctions, including the South African regime, Reagan declared that "disrupting the South African economy… will only fuel the tragic cycle of violence and repression" there. Despite his veto, Reagan did voice his support for two aspects of the bill. First, he agreed with proposals to help U.S. firms fight apartheid from within South Africa. His second point of agreement dredged up old suspicions over ties between the apartheid opposition movement and Communism, which he asserted had "infiltrated" South African politics. He called for groups, such as the ANC, to "reexamine" relationships with this old enemy and condemn acts of "terrorism."
Legislative Action
On September 29, 1986, Reagan sent a letter to Congressional leadership hoping to soften the blow of his decision the day before. Instead of legislation, the president offered to issue a new, expanded executive order, including more stringent regulations on investment, and further requirements for funding educational and community development for blacks. Reagan also emphasized that the new order would constitute "a complete and comprehensive statement of U.S. policy toward South Africa," offering to fully align the government of the U.S. with the goals of sanctions supporters. Through further budget measures and collaboration with the international community, Reagan also promised to support the democratic development of southern Africa outside of the proposed order itself. Importantly, however, he insisted "positive steps as well as negative signals are necessary," reiterating that sweeping sanctions alone would not suffice for achieving the desired goals of the anti-apartheid movement.
Within a few days, however, Reagan's veto was overridden for the first time during his presidency. On Monday, the House of Representatives voted 313-83 for the override. That Friday, October 2nd, 1986, the senate voted 78-21 to finally pass the Comprehensive Anti-Apartheid Act of 1986 into law. In a statement addressing the congressional action, Reagan reluctantly accepted responsibility for enforcing it, lamenting, "My hope is that these punitive sanctions do not lead to more violence and more repression." Though it did not represent complete disinvestment, the legislation banned new investment, and prohibited key South African exports such as steel, coal, and agricultural products. Intended to cut off support for activities that sustained the apartheid system, the law also halted the flow of American technology, information, and products such as petroleum, into South Africa, as well as restricting diplomatic ties through air travel prohibitions.
In the national media, Republican Senator Richard Lugar heralded the act as a "strong and determined voice against racial injustice in Africa." Another Republican Senator, Lowell Weicker, reiterated the clear congressional message to Reagan, declaring "For this moment at least, the president has become a complete irrelevancy to the ideals, heartfelt and spoken, of America." For some lawmakers, however, the act still did not go far enough. The final version was weaker than that which the House had passed, and Howard Wolpe, a Democratic Representative from Michigan threatened a "full economic embargo" if conditions did not improve. On the University of Michigan's campus anti-apartheid activists were even less satisfied. In the Michigan Daily, an editorial dismissed the "weak sanctions" imposed by Congress, citing the South African exports that were allowed to continue and the U.S. corporate presence that remained intact. It also warned against "premature" assumptions that "these sanctions will be viewed by the public as the United States' fulfillment of all obligation to the plight of South African blacks." In the interest of furthering this obligation, the author urged students to "increase pressure on the University administration" and maintain awareness and outrage over the situation in South Africa until apartheid was truly finished.
Shifting Institutional Attitudes
The Comprehensive Anti-Apartheid Act of 1986 was a watershed governmental action that mirrored a shift in attitudes toward divestment at many major U.S. colleges and universities. On July 7, 1986, following a few intense years of anti-apartheid protest across the nation, the Presidents of about one hundred universities, from Harvard, Princeton, to Michigan State University and the University of California, Berkeley, signed off on a letter urging congressional leaders to impose economic sanctions on South Africa. Harold Shapiro, the president of the University of Michigan was one of this group of the country's educational elite who urged congress to impose economic sanctions on the government of South Africa.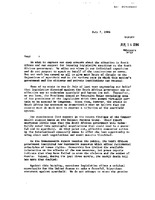 Though the presidents supposed they couldn't speak for their entire institutions, they expressed "little hope that the South African government [would] voluntarily enter into meaningful negotiations that could lead to a peaceful end to apartheid." In the face of rising death tolls as a result of the regime's crackdowns, they asserted that "legislated sanctions offer the best chance we have of encouraging peaceful change and avoiding increased violence and bloodshed."
Thus, the years of argument and protest on college campuses, such as the University of Michigan, contributed to a growing consensus among the nation's educational and political elite that made such a powerful statement agianst apartheid possible. According to Professor Matthew Countryman, a prominent anti-apartheid activist at Yale University during the mid-1980s, the passage of teh Comprehensive Anti-Apartheid Act was a defining moment for international opposition to apartheid. For Countryman, rejection by the United States was a major factor in South Africa's ultimate dissolution of the apartheid system.
Sources:
Francis Njubi Nesbitt, Race for Sanctions: African Americans against Apartheid, 1946-1994 (Blacks in the Diaspora) (Bloomington: Indiana University Press, 2004), p. 80-90.
Ronald Reagan: "Excerpts From an Interview With Walter Cronkite of CBS News ," March 3, 1981, Online by Gerhard Peters and John T. Woolley, The American Presidency Project, Accessed June 19, 2015, http://www.presidency.ucsb.edu/ws/?pid=43497.
Gerald M. Boyd, "Reagan to Meet with Tutu as Protests on South Africa Spread," New York Times, December 6, 1984, Late Edition (East Coast), http://search.proquest.com/docview/425281943?accountid=14667.
Barbara Gamarekian, "Apartheid Protest Takes Page from 60's History," New York Times (1923-Current File), November 30, 1984,http://search.proquest.com/docview/122477090?accountid=14667.
Karlyn Barker and John Ward Anderson, "87 Arrested in Protest's Biggest Day," The Washington Post (1974-Current File), January 19, 1985, http://search.proquest.com/docview/138747231?accountid=14667.
Sandra Evans, "Reagan to Consider Tutu Suggestions," The Washington Post (1974-Current File), December 8, 1984, http://search.proquest.com/docview/138134199?accountid=14667.
No Author, "South Africa in Emergency." New York Times, July 23, 1985, Late Edition (East Coast), http://search.proquest.com/docview/425459132?accountid=14667.
Bernard Gwertzman, "Reagan, in Reversal, Orders Sanctions on South Africa; Move Causes Split in Senate; New Policy on Pretoria," New York Times, September 10, 1985, Late Edition (East Coast), http://search.proquest.com/docview/425523210?accountid=14667.
No Author, "Reagan Orders South African Economic Sanctions," Michigan Daily, September 10, 1985, Accessed June 19, 2015, https://news.google.com/newspapers?nid=aGxtzYPGyQEC&dat=19850910&printsec=frontpage&hl=en.
No Author, "Senate Approves Sanctions," Michigan Daily, October 3, 1986, Accessed 19 June, 2015, https://news.google.com/newspapers?nid=aGxtzYPGyQEC&dat=19861003&printsec=frontpage&hl=en.
David Shribman and Robert S. Greenberger, "Senate, Joining House, Overrides Veto by Reagan of South Africa Sanctions." Wall Street Journal (1923 - Current File), October 03, 1986, http://search.proquest.com/docview/135182069?accountid=14667.
No Author, "Weak Sanctions," Michigan Daily, October 7, 1986, Accessed June 19, 2015, https://news.google.com/newspapers?nid=aGxtzYPGyQEC&dat=19861007&printsec=frontpage&hl=en.