DOW Chemical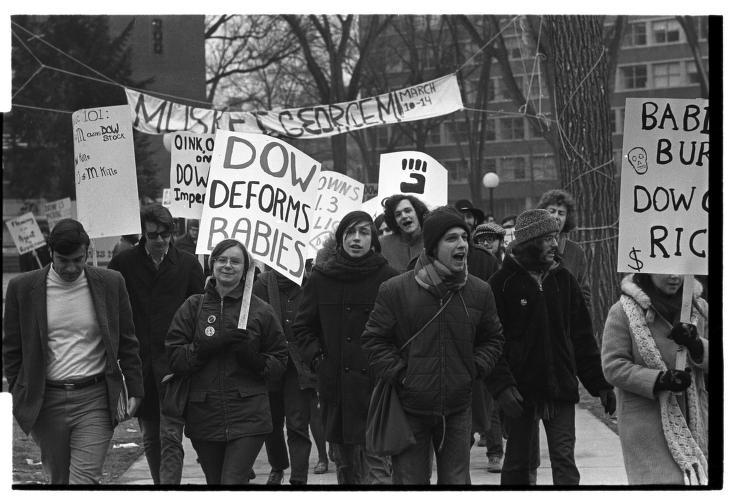 The Role of the Military-Industrial Complex in Universities
Americans were wary of the military-industrial complex after the Cold War. They became even more critical of the government-private firm alliance as the war continued into the late 1960s. On college campuses across the country, anti-war activists protested corporations, who were contracted by the government to make products for the military. Activists were determined to interfere with corporations, who they believed had an economic incentive to perpetuate the Vietnam War. Students specifically recognized the monetary role universities played in supporting these firms and planned to terminate this relationship. Therefore, students began by attacking the University's support of recruitment on campus and its investment in companies involved in teh production of wartime materials.
Student Activists Target Dow Chemical
Dow Chemical, a Michigan-based chemical company, faced scrutiny from anti-war activists for their production of napalm. In the Vietnam War, the use of napalm became increasingly controversial. Mark Greenside, a student at the University of Wisconsin in the, "Two Days in October 1967," documentary says, "it [napalm] has a complete reference to the zyklon gas, the gas used in concentration camps. It felt like chemical warfare at its worst." As the sole provider of napalm to the military, Dow was now the target of anti-war activism. Dow argued that according to military officials, napalm was only used on military targets. Dow also claimed they were not responsible for how the military was using their product. This argument is countered with allegations from anti-war activists that napalm was, in fact, used on civilians. The activists' argument was strengthened when more news coverage of Vietnam reached the shores of the United States. The first anti-war protests against Dow occurred in October 1966 and spread nationally to hundreds of universities. Anti-war activists made napalm a symbol of the Vietnam War because it called into question the morality of military tactics being used at the time.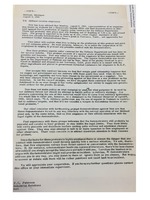 SDS Protest: Dow Headquarters-August 8th, 1966
On August 8th, 1966, the SDS chapter at the University of Michigan launched a protest campaign against Dow Chemical in Midland, MI, for producing napalm. A letter from Dow's corporate management was sent to its plant employees in Midland. The letter not only informed employees of the anticipated student protest, but also explained, "what Dow is doing on the production of this product and points out our company policy. Its main purpose, however, is to enlist the cooperation of all employees in helping to prevent any possible conflict with the demonstrators." Management further identified reasoning behind the protest citing that demonstrators would most likely argue Dow to be a "war profiteer." However, the clarified, in this letter, "Dow accepts this contract because we feel that simple good citizenship requires that we supply our government and our military with goods they need when we have the technology and the capability and have been chosen by the government as a supplier." Dow took the opportunity to inform its employees of company policy because many employees were uninformed and unaware. In addition, management wanted to encourage positive engagement with protesters on the day of the demonstration. Maintaining peace with SDS protesters was critical to the company because they needed to avoid added negative media coverage. Thus, they encourage Dow employees to stay carefully within the boundaries of the legal system, to avoid any litigation or further accusations of wrong-doing. Dow's position on maintaining "good citizenship," by producing napalm for the Defense Department, is an explanation that remained consistent throughout the war.
Protest: Dow University Recruitment-November 8th, 1967
Activists began to protest Dow's student recruitment on university campuses. Many believed Dow should not be allowed to use the free public space of the university to recruit students. In an Ann Arbor News article entitled, "Dow Chemical Recruiter Triggers U-M 'Teach-in,'" law students instigated a teach-in on November 8th, 1967 in response to Dow recruitment on campus. This public forum involved Richard W. Barker, assistant to the general counsel for Dow Co., Law School Dean Francis B. Allen, Professor Alfred F. Conrad, Associate Professor Joseph L. Sax of the Law school faculty. Law students condemned Dow for their contributions to the Vietnam War, signing a petition with over 200 signatures. Some administrators did not support these students protest against Dow, including Dean Allen. Dean Allen criticized activists, "Most of you are willing to argue that the University is immune from invasion by the political forces of this community. You can't have it both ways. Either this is a university or a political party." Barker, the Dow representative, informed the group of students that napalm production represents "half of one percent" of Dow's production  and "less than that in profit." Some law faculty reiterated the importance of protesting institutions in order to force them to change policy, while other faculty believed the way to see change was through political parties. Proper protesting methods against Dow became a major controversy for anti-war activists.  
Protest: Dow Chemical Stockholder's Meeting-May 8th, 1968
The National Committee of Clergy and Laymen Concerned about Vietnam and Student Peace Union organized a protest at the Dow Chemical stockholders meeting on May 8th, 1968. In a flyer created by the committee, they share that there is a split between the Board of Directors of Dow on the issue of napalm production. Therefore, they are hoping a demonstration would "take advantage of that fact so that Dow will be forced to drop its napalm contract with the government." Organizers of the protests would be allowed to explain napalm's destruction of human life at the stockbroker's meeting. However, protestesters voiced their desire for different, more militant tactics at a meeting held before the protest in Ann Arbor's First Methodist Church. Richard R. Fernandez, chairman of Clergy and Layman Concerned About Vietnam, gave instructions about the nonviolent form of protest that would take place outside the stockholder's meeting. Discontent from the youth was voiced. Students were concerned, believing militancy was necessary. Fred Eddera, a member of the Purdue Peace Union, objected the nonviolent protests: "we'd liked to see a more militant demonstration, possibly take over the meeting and start a teach-in on napalm." Organizers disagreed with the youth believing civil disobedience would not be condoned by their group. Many of these students were beginning to believe civil disobedience was the only tactic that would establish political changes. A youth member complained about the clergymen's tactics stating, "only a moral witness, which is not effective in American politics."
The Begininng of Dow Sit-ins: University of Wisconsin Madison
The University of Wisconsin-Madison staged their second sit-in against Dow recruitment in October 1967. Wisconsin students took over the Commerce Building with a sit-in, in order to prohibit Dow recruitment. Police were prepared, meeting sit-in protesters with tear gas and clubs as they violently forced students out of the building. Students retaliated by throwing rocks, spitting on officers and name calling. The result left seventy-five injured, ten were police officers, and eleven protesters were arrested. The Milwaukee Journal captured student sentiment on campus after the "police brutality" against anti-war activists, "by February 1968, a survey found that 75% of students endorsed endorsed organized protest as a "legitimate means of expressing student grievances." Only 7% disagreed." Wisconsin's sit-in marked the first time an anti-war protest had turned violent.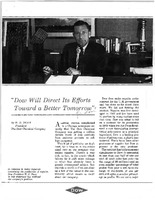 Dow Chemical's Perspective on "Supporting Vietnam"
As protesting against Dow increased, Dow's corporate elites recognized the need to explain their policy on napalm to the community. President of Dow Chemical H.D. Doan, outlined the company's stance in 1968. In 1965, Dow was asked to bid for a contract with the Defense Department to produce napalm. The military created a new formula using polystyrene and at the time, Dow was a leading producer of polystyrene. Doan explained other companies used to produce napalm, but at the time Dow was the only one. He also wanted to clarify that napalm was just one of many products produced by Dow. During the Vietnam War, Dow became the poster child for producing napalm, even though it produced many other products, including saran wrap. Doan expanded on a few concerns held by a majority of Americans: Dow's profit, morality of producing napalm, why the company recruits on college campuses, and proposition open-communication between businesses and the community. Doan also explains the effects protesters have had on the company.
U of M Protesting Dow Recruitment-1969
In 1969, anti-war activists at the University of Michigan organized a demonstration to pressure President Fleming to ban Dow from recruiting university students. This flyer reveals the discontent that UM anti-war activists felt for the corporate support of the military and, by extension, the university's own complicity in the Vietnam War. They continued to attack the company for producing "ecologically disastrous herbicides" and for being the "'free World's' leading corporation in the art of genocide." Although Dow was outbid for its contract with the Defense Department to produce napalm, other destructive herbicides, components of Napalm Bombs and tanks were still being produced by the firm. Activists changed tactics by using intersectionality to gain support from students, who were also being affected by the movement, but may not have recognized it. In the flyer, the gay liberation social movement is mentioned: "since he has refused to permit the Gay Liberation Front to use University facilities, we know Fleming has the power to make this decision." In addition, the women's and civil rights movements are addressed, "of the top fifty executives of Dow Chemical, none are black, and none are women. University rules prohibit use of University facilities by corporations which discriminate." As other social movements were taking place at the time, organizers began to use intersectionally as a tactic to gain more support in the anti-war movement. In another flyer, students furiously express their concern over the University's 1.3 million dollar investment in Dow. "The university helps Dow, and corporations like it, by doing the war research and training the officers necessary to protect U.S. corporations' investments abroad. And research to protect their investments here. And by permitting recruiting--recruiting which provides the technicians and executives needed by Dow to continue makiing their profits. But the university doesn't do it out of citizenship. The University of Michigan holds $1.3 million in Dow stock. And when Dow profits, the university profits." Students want to exploit the University's direct involvement in the war, hoping their efforts will persuade the University to divest.
Changing Tactics Against Dow Chemical
University students innovated various tactics to show resistance towards Dow Chemical. In a 2015 interview with Bill Ayers, he mentions the importance of creativity when developing tactics that would capture the attention of students. Ayers recalled passing out flyers that said his organization would be killing a dog with napalm on the Diag at a specific time. Ayers says the point of the flyers, though they obviously were not going to use napalm to kill a dog, was to spread awareness. If people were willing to show up and protest napalm use on a dog, they should also be concerned with the U.S. use of napalm on civilians in Vietnam. From sit-ins, to teach-ins, and various other tactics, creativity sparked the local and national attention anti-war activists desired.
Citations for this page (individual document citations are at the full document links).
"Dow Letter to Employees," Folder Youth and Student Protest-Dow Chemical Demonstrations, Labadie Special Collections, University of Michigan.
"...Simple Good Citizenship...," Folder Recruitment (1 of 4), Box #9, V.P. of Student Affairs, Benteley Historical Library, University of Michigan.
"Napalm is not healthy for children...," Folder Papers Concerning Dow Chemical Protest 1968 (2), Box #2, Marica Barrabee Papers, Bentley Historical Library, University of Michigan.
"Dow Will Direct its Efforts Towards a Better Tomorrow," Folder Papers Concerning Dow Chemical Protest 1968 (2), Box #2, Marica Barrabee Papers, Bentley Historical Library, University of Michigan.
"Dow Doesn't Care About People," Folder Papers Concerning Dow Chemical Protest 1968 (2), Box #2, Marica Barrabee Papers, Bentley Historical Library, University of Michigan.
"Stop Dow, End University support for the war and militarism", Folder Youth and Student Protest-Dow Chemical Demonstrations, Labadie Special Collections, University of Michigan.
Interview of Bill Ayers by Obadiah Brown and Chris Haughey, March 26th, 2015.