Stop the Draft 1967
The anti-draft movement continued into 1967. In Berkeley, California, several anti-war groups organized "Stop the Draft" Week from October 16th-20th. They focused their attention on protesting the Oakland Army Induction Center. On the first day, leaders marched 3000 protestors to the Oakland Army Induction Center to hand out anti-war leaflets to inductees, who were entering the building. Over the span of a few days, the protest gained more participants with over 10,000 protestors. By Friday the 20th, confrontation with the Oakland police led protestors to fight back. This was one of the first times police brutality was experienced during the anti-Vietnam War protests. These demonstrations became known as part of the events that led to the March on Pentagon.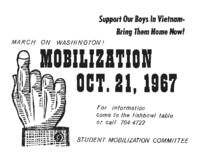 The March on the Pentagon, which was organized by MOBE, occurred from October 21-22, 1967. Fifty thousand people gathered at the Lincoln Memorial for a traditional rally and speeches, but were soon met by the more militant demonstrators, many of whom identified with SDS. The demonstrators made their way to the headquarters of Robert McNamara, the Secretary of Defense with the goal of shutting down the Pentagon. while the more militant protesters were injured. The marchers brought "the anti-war message to within shouting distance of the building" as "several thousand of the most militant broke through the lines of federal marshals, soldiers, and National Guardsmen and reached the other side of the building." While some protesters carried Viet Cong flags, others yelled "Join us!" to the soldiers. Nearly seven-hundred people were arrested as the protest came to the end.
Draft Resistance After 1967
Passing out leaflets at the doors of Induction Centers was a common tactic used by anti-Vietnam War protestors. They saw this as a way to reach out to inductees before they enlisted themselves into the war. Leaflets were also used in other ways, most importantly, to make people aware of the war and convince them to join the anti-war movement. Professor Paul Milgrom, an undergraduate student at the University of Michigan from '66-'70, brought anti-draft flyers to his draft physical. He recalls, in a 2015 email interview, "yes, I wrote it, but it was modeled on some other documents that I had seen. It was handed out in a draft physical facility. As I saw it, I was in a public facility exercising freedom of speech. I handed it to others in the facility, including the staff. Mostly, I was ignored."
Bill Ayers discusses other ways anti-war student organizers tried to grab their peers attention on campus. Tactics had to be constantly changed in order to capture peoples' attention.
Citations
Flyer October 21, 1967 Mobilization March on Washington, Collection Barrabee, Marcia, Folder Teach-in on the draft at U of M 1968, Box 2, Bentley Historical Library, University of Michigan.
http://www.lib.berkeley.edu/MRC/pacificaviet.html