Legacies
UM Student Sweatshop Activism Today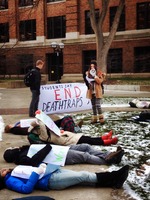 In the years following SOLE's arrests in President Coleman's office, the group steadily faded from the campus activism scene. By 2010, SOLE was largely absent from Michigan Daily coverage and eventually dissolved. However, in 2012 a new group of students started an official USAS branch on campus--USAS Local #17. Maya Menlo, one of the USAS chapter founders, describes the SOLE connection to the new branch, "In the eyes of the University administration and the USAS members themselves, USAS was essentially SOLE reborn." In recent years, Michigan's USAS chapter has continued SOLE's fight. In particular, USAS urged President Coleman to sever ties with Adidas after an Indonesian factory collapsed and Adidas refused to pay severance to its workers, exposed working conditions in Bangladeshi factories, and advocated on behalf of fast food workers. In 2014, President Coleman announced that all University licensees must adhere to the Accord on Fire and Building Safety to better protect their workers--a direct result of USAS' work on campus.
The President's Committee on Labor Standards and Human Rights has also outlived SOLE and still reviews the labor practices of companies associated with the University of Michigan. Members of Michigan's new chapter of USAS have filled SOLE's student representative seat on the committee as well. The committee is one of SOLE's most lasting legacies, ensuring in a way an undergraduate student organization cannot that the sweatshop debate will always be enshrined in the workings of the university administration. However, SOLE's relationship with the committee also highlighted the need for student activists to push the committee when it became too complacent.
Local, National, International Legacies 
It is impossible to measure SOLE's direct impact on the working conditions in factories producing Michigan apparel around the world, but it can be said that SOLE elevated public awareness of global sweatshop issues. During its heyday, SOLE garnered national press attention from The New York Times, Time Magazine, The Chicago Tribune as well as other state and academic publications including the Detroit Free Press, The Chronicle of Higher Education, and The Wisconsin State Journal. In 2001 the University of Michigan was listed as one of the top ten activist campuses in the US by leftist magazine Mother Jones for being "the bearer of the student sweatshop movement." A Honduran union leader visiting campus in 2009 described student anti-sweatshop activism as "totally fundamental in a number of aspects; historically students have been able to talk about these abuses being done by corporate monsters." Lee Palmer, a SOLE founder, reflected on the work she did with SOLE, "We felt like we were changing the world and in some small way, we were."
However, SOLE worked on a number of domestic and local campaigns that had an immediate and direct impact. Working on behalf of GEO in 2002, SOLE elevated the graduate students' contract negotiations into a campus wide issue, which in turn increased the pressure on university administration to come to a deal. SOLE also mobilized against the New Era hat company for its poor working conditions and union busting at its New York factory, even traveling to New York to join the workers' picket line. Lastly, SOLE contributed to a larger, vibrant activist scene on campus, with members often lending their support to other movements--the anti-war and affirmative action ones in particular. SOLE was important not just for their anti-sweatshop and pro-union work, but also for maintaining a critical perspective on university administration and prompting important conversations on campus.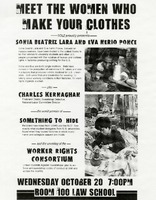 While SOLE did not end sweatshop labor, they did push the university to confront its own connections to sweatshop labor and implement a number of important reforms. SOLE's activism led to the establishment of the President's Committee on Labor Standards and Human Rights, which ensured a greater degree of sustained oversight of university affiliates' labor practices. SOLE's work on behalf of a stronger code of conduct and membership in the WRC resulted better monitoring and transparency of UM apparel licensees. The pressure SOLE put on the university's contract with Nike contributed to the company's adoption of significant labor reforms--improving worker conditions and combating discrimination against union members. Similarly, SOLE's work helped to expose violations at Coca Cola bottling plants. While ultimately unsuccessful in getting the university to adopt the Designated Suppliers Program, SOLE continued to foster a dialogue about workers rights well after its founding. Perhaps more than anything, SOLE forced students to confront their own complicity in human rights violations by examining what they bought and what they wore. SOLE succeeded in converting everyday students into activists by helping students to recognize the impact of their purchasing power, and more significantly, the purchasing power of their university.
Personal Legacies
In addition to impacting the lives of factory workers and local union members, SOLE had perhaps its greatest impact on the lives of its own members. Although many SOLE members entered college with a desire to do social justice work, SOLE gave them the skills and experience they needed to pursue careers in public service. Nearly every SOLE member interviewed for this project cited SOLE as a critical factor in shaping their career paths. Lee Palmer, who is currently running for school board, credits SOLE for "shap[ing] my future career without a doubt." Rodolfo Palma views SOLE as "instrumental" in getting him to his current position as a field rep for AFT-Oregon. In a 2015 interview, Rachel Edelman pointed out that "Almost everyone that I know through SOLE has remained involved in some sort of union/ political work, which I think speaks to the nature of everyone that had been involved." SOLE members were not just student activists, they were committed to a life-long pursuit of social justice and went on to become elected officials, union and political organizers, labor lawyers, and non-profit leaders.
Citations
Maya Menlo, Email Interview, April 11, 2015.
Amia Davis, "USAS holds 'die-in' to protest unfair factory conditions," The Michigan Daily, November 25, 2013.
Max Radwin, "Coleman states University will approve apparel accords," The Michigan Daily, April 3, 2014.
Jack Brown, "Top 10 Activist Campuses," Mother Jones, September/October 2001.
Vanessa Nunez, "Union leaders from Honduras discuss problems at Russell factory," The Michigan Daily, February 12, 2009. 
Lee Palmer, Email Interview, April 16, 2015.
Rodolfo Palma, Email Interview, April 15, 2015.