University of Michigan Anti-Sweatshop Origins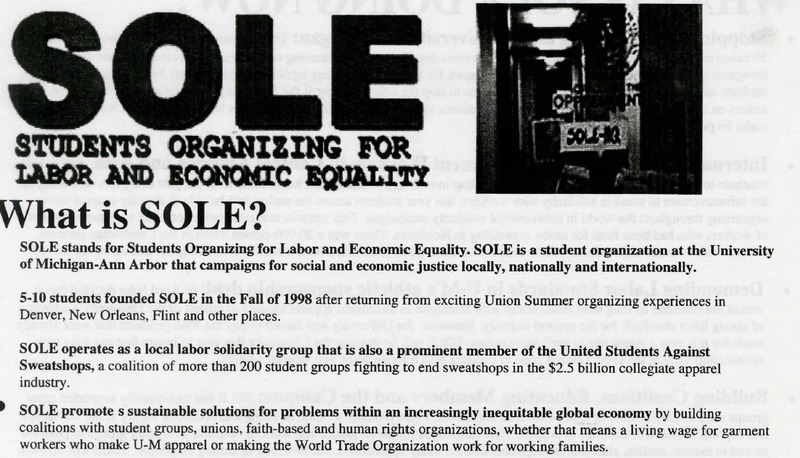 Forming SOLE
In the fall of 1998, Michigan students who had participated in Union Summer returned to campus with a newfound passion for labor rights. Rachel Edelman, a SOLE founder, recalls that "we had vaguely talked about starting up a student-labor group at Michigan while we were [in Union Summer]," but with the work of United Students Against Sweatshop and the national coverage of factory abuses, anti-sweatshop work quickly became the focus.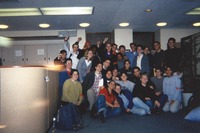 The Union Summer students, in addition to some of their like-minded colleagues from the Michigan Daily, met with the leaders of the campus' "Just Don't Do It" campaign. The campaign had been focused specifically on Nike factory conditions in response to the university's 1994 $7 million contract with the company and had staged a number of events aimed at increasing campus awareness of the sweatshop issue. However, the Union Summer students had a broader vision for labor activism on campus and sought to expand the group's mission beyond anti-Nike activism to better reflect the goals of the national United Students Against Sweatshops organization, namely to work to reform the entire apparel industry by promoting labor rights and raising standards. USAS also left room for individual chapters to work on local and domestic issues as they arose, which SOLE would increasingly turn to after their initial successes. After several meetings, a group of student labor activists founded Student Organizing for Labor and Economic Equality (SOLE) in September 1998.
SOLE's Membership Strategy
Although SOLE advertised at the annual FestiFall Student Organization fair, Edelman describes how the group actually built membership: "We had started the group slowly, and slowly the group expanded through word of mouth." SOLE eventually grew to an organization with 20-30 core members and dozens more peripheral members. In recruiting membership, SOLE was aware of the criticisms of past campus activist groups and attempted to create a diverse, intersectional movement. Their success with this goal is debatable. Former SOLE members acknowledge that the movement was led by many Jewish New Yorkers from progressive families and that the public face of SOLE was often male. Despite SOLE's focus on women's equality as a major facet of their work (most sweatshop workers were and are women), gender dynamics especially created tension within the organization, as female leaders often felt relegated to behind the scenes type work. However, this issue did not go unaddressed by SOLE members, who discussed it as a group and individually, but often with the end result of creating more conflict and frustration. Former SOLE members also remember a lack of racial and ethnic diversity, especially when they conducted a sit-in at the same time as the Students of Color Coalition, although they often voiced support for causes of racial justice. For example, in the full version of the flyer pictured above, a recruitment piece from 2000, SOLE mentions their support of the Students of Color Coalition, explaining their larger coalition-building strategy "to push for an end to racism, sexism, classism, homophobia and the many oppressions that interlock in hurting all people." 
This flyer also provides many important insights into the way SOLE saw itself. On the front page, SOLE situated themselves within the labor debates happening at all levels. They mention their involvement with the both the Ann Arbor living wage campaign as well as the Republican National Convention and World Trade Organization protests--establishing their relevance to local, national, and international issues. On the back of the flyer they describe the membership of SOLE. Their preoccupation with interlocking oppressions indicate that SOLE wanted to be seen as a part of the greater social justice scene on campus, and that they wanted to attract members that cared about these issues. Almost conversely, SOLE also urged students who did not consider themselves activists to join the cause. While SOLE worked to gain legitimization among more established activist groups, they also worked to build a grassroots movement--which required reaching out to non-activists as well.
SOLE hit the ground running in 1998, working to educate the campus, build coalitions with other organizations and local unions, and ultimately seizing on an issue that would lead to their first major action--the university's code of conduct for its apparel licensees.
Citations
Rachel Edelman, Skype interview, April 24, 2015.
Eric Dirnbach, email interview, April 14, 2015.
Eric Dirnbach in United Students Against Sweatshops: Ten Years of Student-Worker Power ed. Nell Hernandez, 2008.
SOLE Vertical File, Labadie Special Collections, University of Michigan.