Early Organizing Against Nike

Sweatshop Scandals: Awareness Builds
In 1994, Nike signed a multi-million dollar, six year contract with the University of Michigan to provide athletic apparel and uniforms for 23 sports in return for the exposure and special advertising rights with the school. This contract brought an estimated $7 million in revenue to the university per year, and it represented one of the national most lucrative apparel agreements in the country.  Many students were thrilled with having such a popular having a large role in campus life. However, after series of international  scandals with Nike's factories, many students began to question if they should continue their relationship with the company.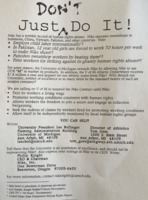 Even as the public was just becoming aware of sweatshop factories as a national issue, Nike found itself at the center of several major scandals. In June 1996, the New York Times released several articles detailing the conditions of Nike factory workers in Indonesia and the role of that clothing manufacturer in slowing human rights progress in Asia. Columnist Bob Herbert wrote, "At the bottom, shouldering the crushing weight of Mr. Knight's multinational enterprise, are the legions of young Asians, mostly women, who work like slaves to turn out Nike's products, and the media-mesmerized young people in the United States and elsewhere who somehow have been persuaded to shell out up to $140 for a pair of sneakers." These articles were enough to grab the attention of the University of Michigan Board of Regents, who discussed their concern with Nike's business practises at their June meeting in 1996. Still, there was not yet the will or excitement on campus to do anything more than take a cursory glance at how university suppliers treated their workers.
Origins of Anti-Nike Activism
The campus movement to regulate Nike predates SOLE and the rest of the anti-sweatshop movement by several years. Many local student and community organization joined together in 1997 to support the national  "Just Don't Do It" campaign. Their membership included the Huron Valley Green Party, the Coalition of Asian Social Work Students, the East Timor Action Coalition, the College Democrats, the Women's International League for Peace and Freedom, and the Vietnamese Student Association, along with others. While many of these groups are the "usual suspects" when it came to protesting on campus, a few were drawn into political organizing for the first time because of the Nike issue.
On October 18 these groups organized Ann Arbor's first Nike Day of Action in conjunction with similar events taking place all over the world. Roughly 60 activists rallied in the diag during this football saturday and parents' weekend, inviting speakers to denounced the university's contract with NIKE and handing out over 3,000 flyers to passers by. The protesters then marched down to the stadium chanting, "N-I-K-E Out of Our University." By the end of the day, the national Just Don't Do It" campaign were calling the series of interntional protests a massive success for the movement.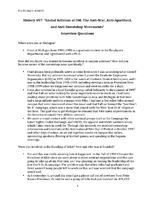 During this event, Nike hired students decked out in their own attire to go around campus supporting the company. "When we flyered at the Michigan football game… there was a team of young women dressed in identical Nike gear handing out pro-Nike information. I was actually really glad since that meant we had gotten the company's attention," said SOLE leader Eric Dirnbach in his interview for this project. "I went over to chat with them and amazingly they asked who I was working for! As if nobody could do this activism work simply because they were motivated by social justice." Nike took this kind of protest seriously, as they stood to lose millions if their contract with the University of Michigan fell apart; they attempted to create as positive a public image as possible, but they could not stop themselves from being the focus of SOLE and the anti-sweatshop activists.
Citations
Krzewinski, Robert, "'Flush the Swoosh': Coalition Says Nike Sweatshops Tarnish U-M's Good Name," Agenda, (Ann Arbor, MI), November 1997. 
Adamy, Janet, "Corporate Sponsors Invest in 'U'," Michigan Daily, (Ann Arbor, MI), October 17, 1997. 
Just Don't Do It Campaign, "Just Don't Do It Flyer," 1997. 
Interview by email, Eric Dirnbach, April 2015