UM Graduate Employees' Organization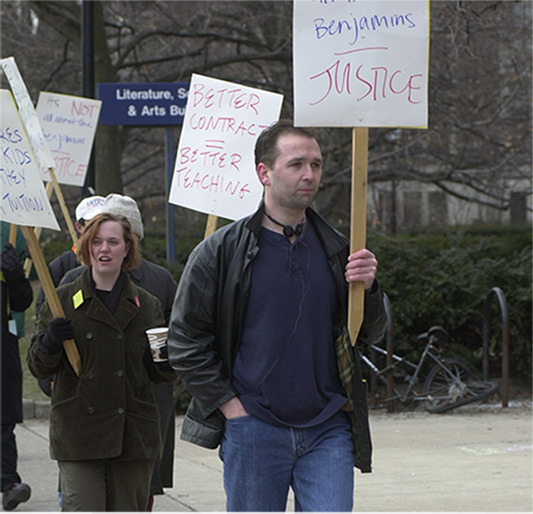 SOLE and GEO Relationship
One of the organizations SOLE looked to as they turned to more domestic labor issues was the University of Michigan Graduate Employees' Organization (GEO), the union representing graduate student instructors and staff assistants. Since their founding, SOLE had had a relationship with GEO. In fact, Eric Dirnbach, a leader of the anti-Nike "Just Don't Do It" campaign that predated SOLE, left sweatshop activism to become the president of GEO as they entered 1998 contract negotiations. Dirnbach recalls the way SOLE sprang up out of this transition period: "I was worried that the campaign would end. As I remember it, around this time I got a phone call out of nowhere from Peter Romer-Friedman. He said he and a group of folks had just finished the AFL-CIO Union Summer program and were looking for labor issues to work on...I couldn't believe the timing!" SOLE retained this connection to GEO, and continued to feed former members into the union--Rodolfo Palma credits SOLE for getting his first job out of college as a staff local organizer with GEO.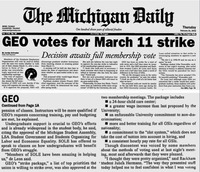 2002 GEO Contract Negotiations
The GEO contract that Dirnbach negotiated in 1998-99 expired in February 2002 and GEO embarked on an extended series of contract renewal discussions with the university administration. GEO members voted to extend their contract by three years, but clashed with the university over the exact terms--particularly concerning expanding childcare options, increasing wages, and strengthening harassment protections. However, when the existing contract expired on February 15th without a resolution, graduate students were able to consider striking or staging a different type of work-action. GEO continued negotiating with the administration, but failed to gain the concessions they demanded and talk of an action spread. In late February, GEO voted to hold a walk-out on March 11th in which they would not show up to teach their classes. Throughout the negotiation process, SOLE had been a strong supporter of the graduate students. Jackie Bray, a sophomore SOLE member in 2002, recalls the work they did on behalf of the graduate students before the March walk-out: "The GSIs [Graduate Student Instructors] themselves didn't feel comfortable using their class time to talk about their contract fight and so they couldn't figure out a good way to build undergraduate support for their contract fight. So we, SOLE, organized ourselves to ask GSIs to let us come talk about the GSIs contract fight in their undergrad sections." The work that SOLE did on behalf of the graduate students garnered them praise from the GEO President, Cedric de Leon, who told the Michigan Daily, "Members of SOLE have been amazing in helping us."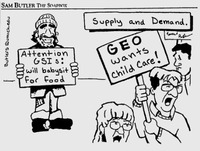 SOLE's early involvement in the contract debate proved critical in building a base of support among undergraduates that they could tap into for the March 11 walk-out. Working off of a list they had built going from class to class, SOLE contacted sympathetic undergrads and encouraged them to stay home from class and to join them at a rally and on the picket line. SOLE also implemented a popular activist "spoke" strategy of organizing support in which SOLE members spoke to student organizations and urged each student to bring a handful of friends to the rally. At the time, Bray told the Daily she expected 1,000 students to stay home, 300 to attend the rally, and 150 to join the picket line. In reality, 300 students joined the picket line, and Bray remembers 3,000 undergraduates staying home. In a 2015 interview, Bray described the scene, "It was very clear, very early that students were staying home. I mean, campus was slow." As SOLE members picketed outside of Angell Hall, a group of fraternity members recognized the SOLE students who had spoke to them about the walk-out and pulled up in a pick-up truck with a grill and began cooking hot dogs for the protesters. Bray remembers that moment as indicative of the broad base of support SOLE had built, "[it] felt like a big success."
However, the walk-out did not force the university to concede to GEO's demands. Childcare, especially, remained a contentious issue. As negotiations plodded on after the walk-out, GEO again turned to SOLE, asking them to stage a sit-in. However, SOLE members recognized that, while they had just built low-engagement, mass support, they did not have the right type of support to carry out a successful sit-in. Instead, SOLE developed a creative action centered around the childcare debate. At the center of the debate were the 168 children of GSIs and SOLE seized upon this detail--buying 168 diapers and dumping them in the office of the interim president, B. Joseph White. As the SOLE students left the office they warned, "Next time they won't be clean diapers." One week after the walk-out GEO and the administration finally came to an agreement, creating a committee to explore childcare options and dedicating $450,000 to the committee's recommendations.

SOLE remained an active ally of GEO, supporting them through each subsequent round of contract negotiations, until SOLE's eventual demise. In 2008, GEO once again held a walk out when their demands were not met by the university during negotiations. Aria Everts gave a speech on behalf of SOLE at the GEO rally on the diag and several SOLE members coordinated to drop a giant banner over the side of Angell Hall during her speech that read "UNDERGRADS FOR G.E.O."
Citations
Eric Dirnbach, email interview, April 14, 2015.
Jackie Bray, Skype interview, April 3, 2015. 
Jordan Schroder, "GEO votes for March 11 strike," The Michigan Daily, February 21, 2002.
Maria Sprow, "GEO calls walk-out successful," The Michigan Daily, March 12, 2002.
Blase Kearney, email interview, May 16, 2015.